What is Rubber Print?
A branding technique that has become synonymous with sportswear brands.  The rubber print has a rubberised, textured feel and is very versatile and durable due to its unique stretchability.
Rubber Print is available in 39 colours.
Allows for much smaller details compared to embroidery.
Elements can be as small as 1mm thickness.
No infill between detailed gaps in text and shapes.
100% precision using laser cut technologies.
A stunning BESPOKE sporty tactile finish.
How does it work?
The process is relatively simple, the logo needs to be vectored to allow our software and equipment to read and laser cut the design out.  Once the design has been cut and weeded out it is then heat transferred onto the cap.
What are the limitations?
Designs can only be supplied in a single colour.
Colours Available.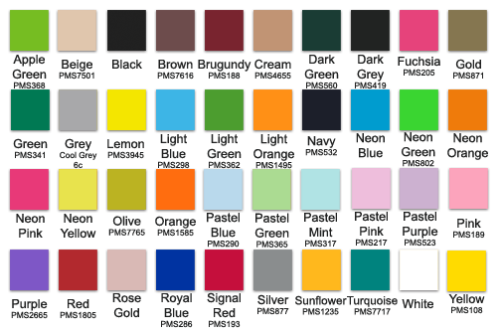 Branding area.
CAPS – 125mm width x 65mm width
Examples.